These frequently asked questions have been prepared to help you easily utilize this website/app. In case you don't find an answer for your question or concern, email us info[@]yaaka.cc
Q. What is Yaaka DN about or intended for?
The Yaaka Digital Network (YDN) is a digital media platform (social network) for students and trainers in university, tertiary institutions, secondary school, pre- and primary to learn/train, mentor and share in academics, social and extracurricular activities of their interest, and to especially share and access digital academic materials in text, audio or audio-visual/video; as well as hold or attend classes on internet connected computers or on their mobile digital gadgets.   In short, it is an online learning platform and digital marketplace for academic materials.
Q. What do i need to use Yaaka?
You need to register here on the yaaka websie or app as a teacher or student (learner). Education institutions can register as a teacher or different teachers, or contact us to build them their own version of Yaaka e.g. Yaaka for Gayaza High School
Q. How do i register?
You click on signup on the top right corner and fill the form, then click  submit. You will get an activation email. Click that link in the email to activate your account and start utilising the amazing student and teacher features on this digital learning platform. You can login at the right hand corner. Remember to fill the math math question to prove you are a real human being (there are many automated bots trying to sign into any website).
Q. What do you mean by digital media platform?
Yaaka a learning tool where teachers and learners can create and or access academic content as well as continuously interact on the yaaka website, yaaka app or yaaka Drive on the Yaaka tablet.
Q. You mean you have Yaaka tablets?
Yes. because we are targeting learners from pre- primary to post graduate, not all learners can have ongoing access to the Internet, leave alone "safe"Internet. We have made three different modes for Yaaka tablets, which come pre-loaded with a Yaaka Drive containing the Yaaka app to be accessed offline. This app can synchronize with our online app/website when connected to the internet and one signs into the yaak website/app and clicks update. Take note that since some of our class notes and academic materials contain videos, graphics, photos and audio files, synchronizing might take some hours and require sizeable internet bandwidth.
Q. Where can i get the Yaaka app, tablet computer?
The Yaaka DN app can be downloaded on Googleplay for Android and appstore for Ios (apple).
The Yaaka tablet computer can be ordered from our office in Ggaba by contacting: info[@]yaaka.cc or +256785955569/+256751627676/ +256784300556. We can also make customised apps for a particular education institution so long as more than 1,000 copies are ordered.
Q. How much does the app or tablet cost? 
The app is free. The tablet computers for 1,400,00UGX or $399. Buying the tablet entitles you to lifetime updates* and free access to all @umc and other free courses. UMC has done at least one free course for every subject and level of education.
Q. What is UMC?
Yaaka is part of the UMC or Ultimate Multimedia Consult Group of companies. Our mother company has compiled notes and other academic materials under username UMC.
Q. Why are you offering courses for free? 
All courses owned by UMC have been availed for free so that you can experience the reality and beauty of digital education and online learning by accesing a wide range of courses and academic materials for free.
However, yaaka being a market place of academic materials, teachers or education institutions can put up classes and decide to charge for those classes (courses). To access such classes or downloadable course modules of UMC, you may be required to pay a subscription or one time fee.
Q. What are the objectives of Yaaka DN?
The Yaaka Digital Network strives to achieve the following objectives:
Establish an online learning and teaching platform where learners and trainers share materials and interface as desired.
Boost teaching and learning in Uganda, and the region in general through providing free and paid for academic materials and skills development material to boost the country's human resources and development potential.
Enable easy, quick and affordable access of academic and educational materials online, on mobile tools and offline as relevant to the users.
Promote the sharing of good knowledge, trainers, facilitators and materials and enable providers earn better revenues for their academic products, knowledge and skills.
Become a leading Internet and mobile platform for learning, education, interaction and discussions between or among learners, trainers, facilitators, companies and other stakeholders.
Support the offering of academic materials in multimedia to boost understanding and learner convenience I.e. learning materials in text, audio, video, graphics, visualizations, databases and audio visuals as relevant.
Provide a physical campus and training to boost multimedia learning product development, platforms and application for online and mobile.
Q. What does Yaaka mean or stand for?
Yaaka or yaka is a bantu word which as spoken in many Ugandan languages means to shine or light. We believe that by sharing knowledge widely and at a least cost on Yaaka, teachers or education institutions will light many lives of the learners, while the students who access the varied academic materials from multitudes of trainers/ education institutions on yaaka will shine as they will learn better and know more than they would at one school which may not be having the good teachers or academic materials for learning/ revision.
Q. Is this Yaaka a Ugandan website/ app? 
Yaaka is a Ugandan made digital learning platform. While most of content and syllabus at the start focuses on Uganda and the country's official syllabus, our goal is to develop Yaaka into an Africa wide digital learning platform providing authentic country relevant education materials with multimedia and interactive capabilities.
Which kind of teachers put notes and classes on yaaka? 
Any one registered on the website can apply to be a teacher / instructor and once approved can put up courses, create groups for learners, create course products for sale and award academic achievements. While effort is always put in ensuring teachers are knowledgeable in what they intend to put on yaaka, we believe many people can have what others can learn from and the judgement of whether material put up is good or not should be left to the users (learners) through their reviews and comments.
How do you protect copyrights and prevent stealing of other people's content?
As you can see in our terms of use, all who put up content on Yaaka should ensure they own or are authorised to share the content they put on Yaaka. All people who put content on Yaaka are also required to respect copyrights of authors and content owners.
In case you find content that is stolen, please do email us at gb[@]yaaka.cc detailing your proof of ownership of the content in question and we shall pull down the content, warn and or suspend the person who puts up stolen content.
As an open society and open learning initiative, we encourage all people who put up content on Yaaka and indeed on any web platform to offer it under creative commons license so sharing with attribution is encouraged.
We also believe the best way to protect your content is by putting it here on Yaaka and sharing it with as many people as possible since not only will many people know about it, you will have many 'soldiers' to tell you in case your content has been wrongly used.
We also encourage all our users to police ourselves to ensure we are respectful in use of content and in the language used across the yaaka website/app.
When was Yaaka started?
The Yaaka DN platform was finalized for use in January 2015 although development of the platform and multimedia interactive tools within have been in ongoing development since October 2010. "We are very pleased to bring to Uganda, Africa and the world at large an amazing function rich digital learning platform that is great on technology, content and usability. For both our online and offline platform, we shall continue adding more functionality as relevant to the learning and education realities of Uganda and other African countries we spread to," says Gerald Businge, the Managing Director of Yaaka.
What are the points i see in Yaaka about? 
Those are points you earn when you undertaken an action on Yaaka e.g. signup, login, read course materials, comment, refer someone to the site etc. Unlike other social networks and learning networks, Yaaka rewards you for the interactions and involvement in the website/app activities by giving you points that you can use to purchase academic materials on Yaaka or withdraw as money. Please note the awarding of marks, how much, for what action and what points can be used or when- are at the discretion of Yaaka DN management. We have designed a robust system to capture and award different points for specific activities on yaaka and award ranks based on your points. We are committed to rewarding for being an active user of Yaaka.
How do I set up my account the way I want?
Once you are signed in, you can change your setting and customize your account at your profile in the top right corner. Just point a cursor there and you will see several options for you to customize your account (settings)
I see many options, can you explain them to me?
Yes. On that top most bar (right), you can see your name or avatar (profile photo). Under it you can see most options for your interactions, starting with your profile and options to edit it.
Activity: Here you can see your wall (just like in facebook) where every interaction you make on this network is recorded. You can view your personal activities, those of your friends, group members, and your favourites, plus your mentions (who has mentioned you anywhere on this website). You will also see activities in groups you belong to and activity updates of your friends. You can comment, favourite other people's activities (posts) or post anything on your mind on your wall.
Profile: Here you view and edit your profile. It includes your details you provided on registration and it shows what other friends or users will see as your public profile. You can always edit it the way you want.  Here you can also change your profile picture (avatar).
Notifications: notifications show you any new notifications since you last visited (or havent checked) of activities by friends, groups, forums, your courses, instructors or admins.
Messages: Under messages, you see your complete message suite, including messages in your inbox, messages you have sent, any notices, and it is here where you can compose a message to any of your friends, group members, teachers/ instructors or users on this site.
Friends: Here you can see your current friends and friend requests (people who have requested you to be their friend).
Groups: Under groups you find your groups, group invites, and events you are invited to or those you have created and you can always edit them.
Forums: this is where you find updates of forum topics you have subscribed to, the replies you have made or favourited as well as engage with other members of the site in discussions within the different forums you belong to as a student or teacher in a course or course unit or group.
Chat: If you need to chat with your friends, just click here, then full chat and you get a chat box with lots of options and emotions for you to express yourself best. You can chat with individuals or groups.
Settings: Click here to change your general settings and configure your account the way you want.
Logout: You can log out from here, or just right below your profile image (avatar).
Q. Do I have to sign up to use this website?
A. If you want to access courses, live classes, get friends, post in forums and groups,  engage in group chats or undertake video conferencing and live streaming services provided on the website, you have to be a signed up member. But reading or watching what is published on the website is free for all.
How do I find friends?
You can click on members (on the main navigation bar )n and you will see the list of members registered. You can request the one you want to be a friend. You can also search for friends in the search box provided. You can even search for members from a particular location or category.
How do I create and manage groups?
For now only instructors can create a group. Whoever creates a group is the chief admin or moderator of that group. You can however give some moderator duties to other members of the group. Any student can however ask any instructor or admins of Yaaka to create for a group for the student or group of students, so long as there is proof of responsibility and capacity to manage the group from being used to post unbecoming content.
To create or join a group , click on the "Group" tab on the main bar, and there is a button just below the main navigation bar "Create a group". Follow the instructions and you can change your group settings as you want. You are 100% in charge of your group. Groups can be open, private or hidden.
To join a group, go to Groups, and the groups will be displayed. Click join on the group that you want to join. You can start or join as many groups as you want, but please keep them relevant i.e. you should be able to interact in all the groups. You can also search for groups and forums in the search box.
How do I join or mange a forum?
Any instructor can start a forum, while any one registered on Yaaka can  contribute to existing forum.  Whoever starts a forum is the manager of that forum. You can create Forums  topics for  discussion…feel free to start any at any time.
To start a forum topic, click on forums on the main navigation bar, then just below, click on New topic…follow the simple instructions and start the discussion. Be clear and precise on what you ware saying so that other members comment on what they can understand.
What is Certificate Validator all about?
Teachers or schools who put courses on yaaka can award certificates to learners who finalise the course successfully. By putting a certificate code (number) in the code validate section, you can prove whether the certificate is authentic i.e. issues by Yaaka and for that course. This is used to prevent people from forging certificates gained on Yaaka or those for your course. At the end of every course leading to award of a certificate, a certificate code is generated on the certificate and this code can be used to validate a certificate for a user. This means no one can forge or deceive that they attained a Yaaka certificate because if it is presented to you as a parent, guardian or potential employee, you can use the code on the certificate, enter it in the course validator section on the sidebar of courses and prove whether the certificate was issue on Yaaka.cc
I see "error establishing a database connection". What should i do. 
Refresh after a few seconds and your page should be able to load properly. We of course wouldn't want you to experience such an error, but due to the many people accessing the yaaka platform at the same time and the multitudes of applications there in, it is expected to get database issues but they shouldn't last more than 30seconds.
Why can't i right click or copy the content here?
We are sorry about that. We have disabled right clicking and copying to avoid abuse of UMC content and content put up by other teachers / users. If you want to access the none protected content or even to download a printable versions go to the shop section and purchase courses and course bundles of your choice, for as low as $10 or UGX 36,600UGX
Can i post marketing or promotional materials on the website?
No. This is a professional academic and social network for learning. As a user, you shall not post marketing or promotional information of products not related to class notes, books, pamphlets etc or events related to learning, students or schools. Even then, the posting should be informational and not promotional. You are encouraged to contact our advertising department in case you have promotional or marketing information you want to disribute on Yaaka.cc
Do you have any questions? Let us know so that we answer it for you and here so that others can benefit. It is only if we work together to make this forum to better that we can achieve the best from the great features and applications available to interact and learn.
These FAQs are for those of you who want to make the best of this Yaaka platform as learners/students to best access courses and academic materials to improve your life . The graphic below summarizes how you can interact with and benefit from this website/app as a learner.
YOU have to be a member (signed up) and logged in to benefit from yaaka courses and learning tools we have specially assembled for you to become the best you can be.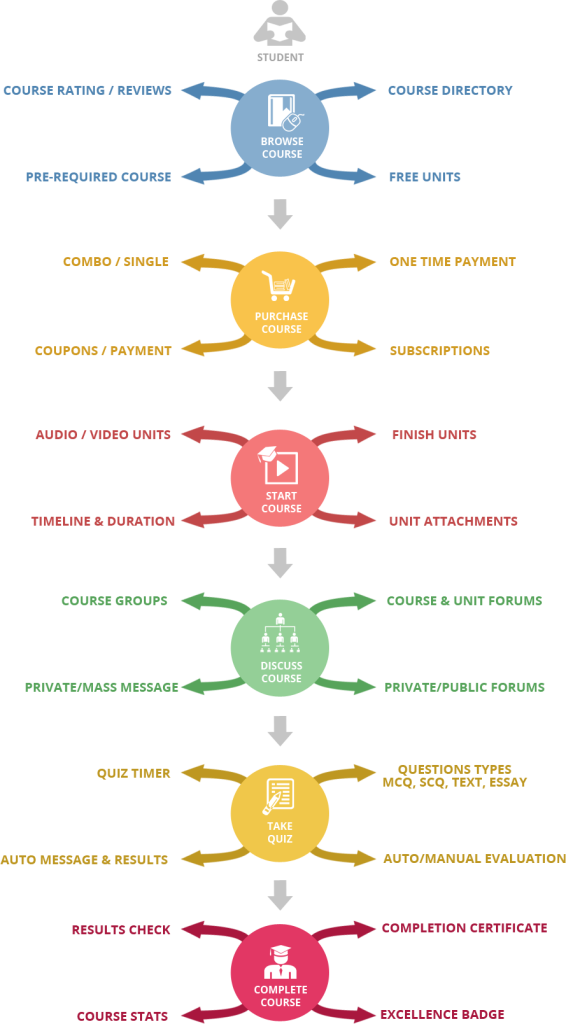 Do i need to do anything after registering to use my account properly?
After filling the registration form or signing in with Facebook, you will get an activation email. Click on the link in the email to activate your account. You can now login to the site with the username and password you set up during registration.
How do i know i have filled all details required?
After registration you are required to fill in more details on your profile so teachers on the site are sure who you when admitting you in their courses. To Access the profile information, you can :
Click on View Profile link in the top right corner (when you hover on your avatar or image after your name)
Click on Edit button to edit the profile.
Enter the fields, there may be multiple field groups which the you can switch to fill the details.
How do i change my profile image?
You can change your profile image (also called avatar) from the edit profile section itself (in top right corner). The Avatar edit section can be located in the profile section. You can simply edit the avatar, delete the avatar or upload a new avatar. Upon uploading the new avatar, you can also crop it to a fitting size.
Do i have to pay to browse/ view courses?
No. As a registered learner (student), you can view courses on yaaka. You can browse through all the courses through the Course directory. The course directory consists of all the courses from all the instructors. Each course line in course directory shows the Title of the course, a short description of the course, the price of the connected product for the course, the ratings, review count of the course and the total number of students which have taken the course.
How do i sort or search to get the course i want?
You can use the search bar on top of the courses to search for a specific course e.g. Biology senior four, social studies primary seven, chemistry senior one, micro economics, effective documentation, etc
You can also sort the course directory using option on top of the courses (click on drop down). Following are options available for sorting the directory:
Alphabetical : Shows the courses in Alphabetical order.
Newly Created : [Default] Shows the courses in Date published order.
Most Members : Shows the courses in Student count order.
Highest Rated : Shows the courses in star Rating number order.
After finlaizing on a course, you can simply click on the course name to see the course page open.
What are all these options i see on the course page?
The course page contains several details for you to decide whether you want to take the course.
Vital Information is located on top right corner with information like : Required Pre-Course, Price of Course, Course Badge, Course Certificate.
Course Description is shown on the course home page (in the middle)
Course Reviews are shown at the end of the course description
Total number of students who have taken the course (shows those enrolled)
Students Taking the course can be seen in the Students section in the Course home.
You can also view course curriculum (on the left sidebar) to see the different units/topics covered in the course
You are free to click on Free units to go through each unit. BUT this will not constitute taking the course in case you want to be registered as having taken the course and to take assignments and get a certificate.
 How do i purchase the course?
In case a course is for paying (you see a price charge there) you simply click on "Take the Course" button, and  you will be redirected to the connected product for the course so you can purchase. Most of these are combos or modules (collection of courses) you can purchase at once.
A connected product for a course (which is what you pay for) can be of One time payment type or Subscription type
You can also browse through the Products and there may be products which may offer a combination of courses or alternative courses you may wish to take.
Once you are sure about the the product you want to buy, you can add the product to the cart and proceed with the purchase process to purchase the product.
How do i take the course i want?
For free courses or once you have purchased the course at Yaaka.cc, you are eligible to take the course by clicking Start course button. If a course has Pre-Required course (a course you need to have finalised before taking this one e.g. Senior one physics being required to have been completed before taking senior two physics) then the you cannot start the course unless the pre-required course is finished and evaluated by the instructor.
Once the course has been started, you can access the course units and can access the course timeline. Click Start course and the first course unit (you can see them on the right) will appear. Below each unit, you can click on the unit as finished. You can also click next or previous to access any unit of your choice in  the course.
Each unit may be connected to a Unit forums where as a learner of this course, you can ask questions and interact with the Instructor and other students taking the same unit/ course.
You can download attachments for each unit. You can also download attachments uploaded in the course group.
Note that once the Unit is marked as complete, a green colored dot appears on the course timeline in front of the marked unit.
How do i take the quiz in the units?
Quizzes are an integral part of Yaaka Digital Learning platform as students need to gauge how well they have mastered aspects of the course and teachers to know how well their students have understood. Quiz are independent units which can or can not be connected to any course.
To take a quiz, you can click on the Quiz in the course timeline on the right to start the Quiz.
Upon clicking the link, you will be taken to the quiz interface. The quiz page shows instructions for the quiz as set by the instructor of the course.
To start the quiz, click on start quiz button.
Once the quiz is started the timer starts running (instructors set the time within which the quiz must be finished).
Detailed guide for quizzes here
Can leave the quiz and return to it later?
Yes if it is for a little time. If you drop out from the quiz,  you can join the quiz within the time allotted for the quiz. Which means the timer will keep on running even if you are not taking the quiz.
After you finalise, you can submit the Quiz can  by clicking on the button Submit Quiz.
If you do not submit the quiz and the timer counts down to Zero, the quiz is automatically submitted.
How do i check my performance in the quiz?
Once the quiz is submitted, you can check your marked answers by clicking on Check quiz results button.
You will have to wait for instructor to evaluate the Quiz. If the instructor set the quiz to be evaluated automatically, you can access your performance result immediately. If there are questions needing the instructor to evaluate, you will have to wait until the instructor evaluates and you will get notification of the marks in your notifications under your profile or  by email as you will have set up your email notifications.
How do i review a course?
Reviewing a course is one of the contributions you can make to let others know how you found the course…was it good or not, how was the quality, on the star scale how would you rate the course and the teacher?
You need to review the course  before submitting the course (final unit).
To review the course, click on Review Course button below the Course Timeline (on the right sidebar)
You can review the course by rating the course our of 5 (stars) and or giving your comments for the course in the form below the course.
How do i finalise a course?
Once all Units and Quizzes and assignments in the course are complete, you can go to course timeline and click on Finish course button to submit the course for evaluation (the instructor to confirm you have finalised the course, the quizzes and assignments if any).
How do i see my quiz and assignment results?
Once you have submitted the quiz, the Instructor evaluates the quiz and an automatic message is sent to you with your marks from link to check the quiz scores.
Once the Instructor has evaluated the submitted your courses assignments and given marks to each student for course, you will receive an automatic message and notification. The message contains the percentage you got in the course.
You can also check the quiz results in the Profile -> Courses -> Results section. OR send a message to the instructor or ask in the course forum/ group about the results if you delay in getting the results.
How do i get a badge or certificate for the course i finished?
If you got course percentage above the Badge percentage then you will get the badge set for that course by the instructor. This badge is shown in your profile.
If you  got course percentage (in the assignment) above the passing percentage set by the instructor, then you will get a passing certificate. This certificate is shown in your profile page. You can also print this certificate.
All users will see what badges and certificates you have archived so far.
How do i interact with other learners and teachers on yaaka?
Yaaka has been built with social networking functionality so you can enjoy learning as you interact with other learners and instructors publicly or privately as friends, group members or forum members.
How do i get friends on Yaaka?
Once you join yaaka, you can request other members to become your friends or accept friendship requests from other members.  When you see a member in a course, group or forums, you can click on their name and ask them to become friends by clicking send friend request. You can also search for members by typing the name or names, school, district or clicking on the membership directory on the website
Can i send messages to my friends and instructors within Yaaka?
Yes. Friends have access to send private message to their friends and to their instructors. Friends can also invite each other to groups, courses, mention each ( e.g. @jane)  in their activity updates, etc..
Private messaging allows greater interaction among students.
Quiz and Course results are sent to users via private messaging, wherein students can directly interact with their instructor on the results.
Can i create groups?
For now only instructors are allowed to create groups. Because groups in yaaka are linked to courses and courses are created only by instructors.
How do i join groups?
Groups are a very powerful component of Yaaka which allows greater levels of interaction.
A teacher can create a group or link a course to a group and invite learners to the group or you can apply to join the group. You can interact with other members of the group by posting updates or questions to other members or instructors.
How can i participate in the discussion forums?
Each course and unit can be connected to discussion forums. Each group can also be connected to a forum. If the group is private then the forum access if allowed only to group members. Which make the forum an exclusive forum for course members. You can participate in forums for courses you are taking or groups you belong too.
However, you can also create a forum or participate in forums of your friends as well as invite members to the forum.
How do i pay for courses?
You can pay for course products using paypal, credit/debit card, mobile money or bank transfer. For paypal and credit/debit card, you will be granted access to the course module immediately after payment while for mobile money or bank transfer, you will gain access in not more than 5minutes after confirmation of payment.
What about the questions and answers i see?
We have built Yaaka as an  interactive learning platform when any student or teacher can ask a question or answer any question asked by another user under the network. We believe strong in information sharing and tapping the power and energy of many people in answering and coming up with solutions or advice on any issue.
What kind of questions can i ask?
Any question especially relating to education, learning, academics, career etc…any question so long as it is logical and moral to ask and be answered on such a public platform.
How do i know which answer is true, correct or most correct?
There is no automatic way. Look at the person posting the answer… do you trust them to be knowledgeable on that topic or issue? How many people have given the same or related answer? We expect that users on Yaaka will be active and corroborate different answers and you who has asked the question can mark on of the answers as the best answer. You can also close answers when you think what you asked has been resolved.
What if i have other questions?
Contact us at info[@]yaaka.cc or +256785955569/+256751627676/ +256772627676
These FAQs are for you who want to make the best of this Yaaka platform as a teacher/ Iinstructor
Q. I see courses already here, why should i join as a teacher?
As a teacher, you are very important to Yaaka as we depend on you for quality frequently updated content that attracts learners. When you join, you add on the variety of class notes, teaching methods, interactivity on Yaaka that makes learning more useful for the students.
The graphic below summarizes how you can interact with and benefit from this website/app as a teacher/instructor.
YOU have to be a member (signed up) and logged in to benefit from yaaka courses and learning tools we have specially assembled for you to become the best you can be. After registering, you need to apply to be an instructor or Teacher on Yaaka
How do i put up a course on Yaaka? 
---
Remember A course is  said to be complete after units, quizzes are added to it.Follow the steps below to create a course.
Also, to be able to add courses, you must have an account at www.yaaka.cc and have applied and been approved as an instructor.
---
Adding a New Course
Login to Admin Panel
Now click on Add New Course
Now fill in the details like Course Name in the heading of the post, and a small description of the what the course is all about in the editor area. The editor area is same as that for posts, pages and supports native audio and videos
---
Course Settings
Sidebar: Select the sidebar you want to place in the course page. Sidebars are created in the section Appearance->Widgets by the administrator.
Excellence Badge: The badges are given on completion of the course and after achieving a certain percentage in the quiz i.e. the Badge Percentage which can be adjusted in the next setting. It is not necessary that every course taker will get the badge.
Badge Percentage: This is the minimum percentage required by the students to have a badge for the course.
Badge Title: You can set the title for the badge given after completion of the course like for a Maths course, you can set the title as Maths Champion which a student will get only after receiving the Badge Percentage .
Completion Certificate:  If set Show, after the course is completed each student who passes the course will get this certificate of completion which is printable as well as downloadable. You can design the certificate according to your requirements.Follow the tutorial in the relevant section.Even after the course has expired the student can log in and view/print/download her certificate of completion.
Passing Percentage: The minimum percentage required to pass the course.
Total Duration of Course: Total duration of the course is the total time for which the student can access the course by logging into the site. After the duration has expired, the user will not be able to view the course content.
Total Number of Students in Course: Initially while creating the course the number of students is set to 0.
Course Curriculum: This setting help the instructor to create the curriculum of the course by arranging the units, quiz and categorizing it in sections. Add Section enables the instructor to add a section and name it. Add Unit enables the instructor to add units which has been created earlier. The units can further be arranged under different by dragging and dropping. Add Quiz allows the instructor to add quiz after unit , section or anywhere the instructor wish to place the quiz. All the three i.e Section, Unit, Quiz are draggable and can be arranged likewise.
Pre required course: This is the pre requisite of doing the course i.e. if some course is selected , then that course must be finished before taking this new course.
Course Forum: Link here the course with the respective course forum.
Course Group: Link here the course with the respective course group.
Course Completion Message: This message would be shown after the completion of the course.
Other Settings
Course Product: After the course has been created here. The course product may be made so that the course created is sold as a product in the shop. After the course product is created, we link both course as well as product with each other with the help of this setting.
Excerpt: Add small two line description of the course. This appears below the name of the course.
Finishing Course
Add featured image to the course in the right hand side of this page. This image is the main image of your course which appears in the course directory, home page etc.
Add categories to the course.
Publish the course.

Do i need to do anything after registering to use my account properly?
After filling the registration form or signing in with Facebook, you will get an activation email. Click on the link in the email to activate your account. You can now login to the site with the username and password you set up during registration.
How do i know i have filled all details required?
After registration you are required to fill in more details on your profile so teachers on the site are sure who you when admitting you in their courses. To Access the profile information, you can :
Click on View Profile link in the top right corner (when you hover on your avatar or image after your name)
Click on Edit button to edit the profile.
Enter the fields, there may be multiple field groups which the you can switch to fill the details.
How do i change my profile image?
You can change your profile image (also called avatar) from the edit profile section itself (in top right corner). The Avatar edit section can be located in the profile section. You can simply edit the avatar, delete the avatar or upload a new avatar. Upon uploading the new avatar, you can also crop it to a fitting size.
It is highly encouraged that you fill the about section with an appropriate bio/ profile detailing your personal and professional achievements as a trainer and in the field in which you submit courses on Yaaka. many people will look at your profile before deciding to take your course. Make it catchy, full of important detail but not long. Include your image in the avatar section. We shall soon be doing video profiles where you talk about yourself and your profile on camera.

These are frequently asked questions for those who want to sell books, pamphlets and other academic materials. 
These FAQs are for helping those intending to sell or promote their products and services in Yaaka.
Click for FAQs for affiliates- registered members on yaaka who wish to make money as commissions for referring people to buy our products and services.